Obituary for Theodore Andrew Lamas
Theodore Andrew Lamas, 89 years old, died peacefully in bed, at his home in Decatur, Georgia, on March 25, 2018. By his side were his wife, Themis "Cissy" Poulos Lamas, and one of his sons, Nick Lamas. During Ted's final years of life, he suffered from a form of dementia, that—while progressively debilitating—did not diminish his lifelong spirit of playfulness, gentleness, and quiet strength.

Ted was born in Savannah, Georgia, on April 29, 1928. His father, Andrew Theodore Lamas (1892-1972), and his mother, Demetra Lamas (1910-1984), were Greek immigrants and longstanding members of the St. Paul's Greek Orthodox Church in Savannah.
In his youth, Ted loved sports, especially baseball. When Babe Ruth, Josh Gibson, Satchel Paige, Lou Gehrig, Joe DiMaggio, and Jackie Robinson passed through town playing exhibition games at Savannah's Municipal (Grayson) Stadium, he marveled at their athleticism and their willingness to speak with a young kid after the game. He never left the ballpark without getting everyone's autograph.

But he got his first autograph when he was eleven years old—from none other than Salvador Dalí. After docking his yacht in the Savannah port, the artist—like so many out-of-town visitors—made his way downtown to the Lamas family's store, which sold, among other things, newspapers and magazines from across the country and around the world. While browsing, he was approached by young Ted for an autograph. Dalí said, "Young man, I will give you my autograph, but how do you know who I am? I have never been here before." Ted replied, "My Uncle Paul told me that if I read the New York Times every day, I will know everything I need to know about the world."

Ted loved to read, play half-ball, swim in the ocean at Savannah's Tybee Island, and drink chocolate milkshakes mixed with just the right amount of crushed ice.

Ted also played drums. He developed an intense love of jazz, stimulated by the swinging big bands that would dock at the port of Savannah, by the music reviews appearing in the New Yorker and Down Beat, and by the intoxicating, percussive rhythms generated by brilliantly talented Black men who earned their daily bread shining shoes and blocking hats in the most inventive ways. Ted was drawn to virtuosity and commitment. One's station in life—one's race, gender, class, or whatever—mattered not a bit to him. He was not impressed by the privileged, nor ashamed to be in comradeship with those ignored or rejected by others. He did not assume that the wonderful exists more fully in what is commonly thought big and fashionable than in what is commonly thought small and marginal.

After attending the church's Greek school and graduating from Savannah High School, Ted enrolled at the University of Georgia, in Athens, where he was soon joined by his lifelong friend Harry "Stavros" Andris. These two hepcats often sold their meal tickets to buy jazz albums, devouring the liner notes and digesting the music so thoroughly that while asleep at night they had vivid dreams of taking the "A Train" uptown to Harlem's Apollo Theater, or falling downstairs into the Village Vanguard ("the most famous basement in New York City"), or flying in and out of the many clubs on 52nd Street—the Mecca of the mid-twentieth century's jazz world.

On the evening of March 25, 1949, Ted and Harry drove down from Athens, crashed a party in Atlanta's Greek community, and with their jazz hipness—zoot suits, bebop slang, and all—stole the hearts of two young, beautiful sisters, Cissy and Betty Poulos. The other two poor young men who had brought the sisters to the party never danced with them again, as shortly thereafter, Ted married Cissy in 1951 (and had three boys), and Harry married Betty in 1952 (and had three girls).

Like many young men in the early 1950s, Ted was drafted (after graduating from the university in 1951) into the US Army during the Korean War. He did basic training at Fort Bliss in the sweltering heat of El Paso, Texas, and was stationed in Aberdeen, Maryland (close enough to the storied jazz clubs in Baltimore and Philadelphia to catch Billie Holiday singing "Strange Fruit" and a train ride north for a long chat with Louis Armstrong). Ted was honorably discharged as a sergeant, at nearby Fort George G. Mead, where he received the National Defense Service Award. He disliked the regimentation of military life, preferring the improvisatory, rule-defying ethos of the jam session and modern art. In a world of Thanatos, he chose Eros. But, by all accounts, he looked sharp in the uniform. Ah, the contradictions!

After Ted and Cissy had their first child, Andy, born in 1954, they lived for a few years in the home of Cissy's parents—Nick and Helen Poulos—at 602 Central Avenue, then in the heart of Atlanta's Greek community. In 1958, the young family moved to what was to become their lifelong home in Decatur. Their second child, Nick, was born that year, and their third child, Paul, was born in 1960. Ted's brother, Arthur Lamas, and his cousin, Anthony Yialamas had also moved to Atlanta to attend Georgia Tech. So, as you might imagine, the last game that mattered in each year's regular-season college football schedule was always an occasion of friendly rivalry in the family. (At this point, Ted would note that in the all-time series, Georgia maintains its lead, 66–41–5.)

Given his many talents and interests, Ted could have had a different sort of life than the one he chose—but, really, that is perhaps something all of us could say about our own lives. In any case, to provide steady support for his growing family, he settled into a job—first on the loading dock with a broom in his hand and then eventually in a mid-level position managing a division of 500 people—at Lockheed Corporation (now Lockheed-Martin), at its facilities in Marietta, Georgia. Though he received numerous commendations and—for decades—never missed a day of work, Ted said less to his family about Lockheed than the number of words in this paragraph. Perhaps some of his work was classified, but, more probably, he would just rather spend his time focusing on the life of his family, the major events of the world, and his many cultural interests. On occasion, though, he did take the family out to Marietta for air shows, which featured the amazing aerial acrobatics of the US Navy's Blue Angels. On March 2, 1968, in recognition of his contributions, Ted was seated on the dais with US President Lyndon Baines Johnson and the First Lady—"Lady Bird" Johnson—for the inaugural rollout ceremony of the C-5A Galaxy, then the world's largest airplane.

A lifelong liberal and social democrat, Ted supported Johnson's War on Poverty, but opposed the Vietnam War, and believed in Martin Luther King Jr.'s vision of a beloved community, the sound of which Ted could hear in the jazz music that he loved.

Ted did not compose his life. He lived it improvisationally. His love of improvisation across multiple genres of culture and music—not just jazz—was an integral part of the humanity he expressed and even the parenting he undertook.

His three different sons think (for three different reasons, of course!) that he was the best father one could imagine. Though, in some respects, they took different paths in life, each had the father that he needed. Ted did not try to make them in his image, but his presence is uniquely manifest in each of them. And, by the way, in their youth, Nick played the drums (like his dad), while Paul and Andy played the saxophone and trumpet (but not like Charlie Parker and Dizzy Gillespie—no one could do that).

With his children, Ted played imaginatively and creatively, beyond silliness into delightful absurdity, inventing amazing words and sounds and gestures. He had internalized—and then reinterpreted for his children—the avant garde currents of Dada, surrealism, and bebop.
With Ted, there was no thought of fitting in; but, there was no desire to flaunt it either. To most people—the normal, conventional people ("the normies"), he was just a quiet, private person who kept his head down.

But he was intimately connected to significant currents and successive waves of artistic and cultural innovation. His taste was so developed, his knowledge was so oceanic, that musicians would acknowledge him when he walked into the room—whether it was a dark basement bar or a bright concert hall, sometimes even beckoning him to the stage and pulling up a chair for him to sit with them as they played, as Dizzy Gillespie once memorably did during a gig in Atlanta.

When Ted was in the room, the musicians were in dialogue with him—a call and response, and everyone present reaped the rewards. For Ted, the call and response—which requires mutual recognition, close listening, trust, deep respect, and having one another's back—is at the heart not only of great music but of everything worthwhile in human culture and personal relationships. If you had the pleasure of accompanying him on such outings, you could watch soloists watching Ted as they played because they knew he would register—with a nod or a snap of his fingers—their quotes of long-dead musicians, the ancestors that constituted the tribe of which they were all a part. Ted well understood that historical consciousness was essential to anything that wanted to be free.

In these beautifully spiritual jazz moments, time itself is suspended—as with the ancient Sabbath, and all those gathered together are at once in communion with the departed whose gifts sustain us, yet also never more alive to create anew, with and among the living, and to affirm the humanity of all people and the wonder of creation. Ted found heaven here on earth, and he generously shared the keys to this kingdom with all who would listen.

Ted also had a special and personal kinship—off the bandstand—with jazz musicians, from legends like Bird and Diz to lesser known, but all-important players like J.C. Higginbotham who pioneered the jazz trombone (and who visited Ted and Cissy's home on more than one occasion), Kenny Clarke who revolutionized drumming at the dawn of bebop, and Peter Brötzmann the contemporary German saxophonist and clarinetist who is one of the world's leading free jazz artists. Ted had decades-long correspondences with these and many other musicians.

Duke Ellington and Ted shared a birthdate—April 29. Every year on that date, from the time they met in the 1950s to Duke's death in 1974, they exchanged birthday cards. The greeting from Duke was eagerly anticipated, as it arrived in a regular-sized envelope but when unfolded was as large as a poster.

Dizzy's presence in Ted's life was so constant that his oldest son Andy thought—until he was eight years old—that Dizzy was an uncle. To Ted, he was a brother.

Ted also wrote concert reviews for newsletters of jazz societies throughout the United States and abroad. His insights on the music were featured in jazz magazines and newspapers, and he was interviewed on radio stations about his vast knowledge of jazz—what Ted believed was America's most important cultural treasure.

But, of course, Ted's greatest love was Cissy. They genuinely loved being together, and the greatest moments of their lives were with and of one another. Their love story is truly remarkable and remains inspiring to all who watched their union perennially blossom like dogwood and azalea under the sprawling branches of a live oak draped with Spanish moss.
In closing, remember that date above—March 25—when Ted first set eyes on his bride to be. Remarkably, on that same date, sixty-nine years later, as if in a timeless, romantic epic—in which the ending and beginning embrace, he looked upon her and then closed his eyes for the last time. Throughout their life together, whenever the song "I Only Have Eyes for You" would play, Ted would swing Cissy into his arms, no matter where they were—in the kitchen, in a grand ballroom, or in an airport concourse—and they would dance until the music stopped.
***

Ted is survived by his wife, Themis "Cissy" Poulos Lamas; his three sons—Andrew T. Lamas, a professor at the University of Pennsylvania, in Philadelphia, Pennsylvania, who is married to Dr. Virginia Vanderslice; Nick T. Lamas, proprietor of Lamas Contract Services, in Decatur; and Paul T. Lamas, partner in Roosevelt & Cross, Inc. and co-founder and partner of HPH of New York City, who is married to Hilda Lamas; his four grandchildren—Jana Vanderslice-Barr (married to Jon Muniz-Lewis), Parker Vanderslice-Lamas (married to Anu Thomas, Esq.), Savannah Lamas, and Gabriella Lamas; and his great grandson Alexander Muniz-Lewis. Ted is also survived by his brother Arthur Lamas and his cousin Anthony Yialamas and their families, and many other relatives and friends in Atlanta, in Savannah, in Greece, and around the world. The family is grateful to Barbara Hawker for the loving care that she provided alongside Cissy and Nick toward the end of Ted's life.
***

A viewing will be held from 5:00-7:00pm—with a short prayer service beginning at 7:00 p.m.—on Wednesday, March 28, 2018, at A.S. Turner & Sons Funeral Home, 2773 North Decatur Road, Decatur, GA 30033. Funeral services will be held on Thursday, March 29, 2018, at 11:00 a.m., at the Greek Orthodox Cathedral of the Annunciation, 2500 Clairmont Road, Atlanta, GA 30329. Burial will follow at the historic Greenwood Cemetery, 1173 Cascade Circle SW, Atlanta, GA 30311.
To send flowers or a remembrance gift to the family of Theodore Andrew Lamas, please visit our Tribute Store.
Previous Events
Visitation
A.S. Turner & Sons
2773 N. Decatur Road
Decatur, GA 30033
Trisagion Prayer Service
A.S. Turner & Sons
2773 N. Decatur Road
Decatur, GA 30033
Church Service
Greek Orthodox Cathedral of the Annunciation
2500 Clairmont Road
Atlanta, GA 30329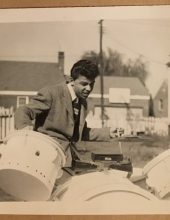 Thank you for sharing your
memory of Theodore
Provide comfort by sending fresh
flowers from our local florist.
No thanks, please don't show me this again.