Obituary for Headley Leopold Scott, Jr.
Headley Leopold Scott, Jr., popularly known as Lee had a personality larger than life. He had a true warrior spirit and taught many by example how to fight for what they wanted and stay strong in the face of adversity. Lee had a penchant for calling things out the way he saw them and considered himself a student of the truth.

Lee was born in Harlem, New York and was raised in East Elmhurst, Queens. He was the son of Headley L. Scott, Sr., M.D., a former Chief of Radiology at Harlem Hospital and Josephine Tucker Scott, a former psychiatric social worker with the New York City Board of Education. He had one other sibling, his older sister Joette Scott Campbell, a psychiatric social worker.

Lee's life was shaped by the onset of Diabetes Type 1, at the early age of nine (9) years old which threatened his life span. From that age onwards, he had to inject himself with insulin everyday and deal with debilitating pain and discomfort caused by complications from the disease. This fight for life enabled him to defy the odds and live until he was 69 years old by the Grace of God. His family and friends often teased him that he was a cat with nine lives and were never sure what number life he was currently living.

In spite of his diagnosis, Lee never gave himself an excuse not to live with passion and enthusiasm and work tirelessly and assiduously to ensure that he and his family would always be provided for. During his formative years, he attended the Henley School in Jamaica Estates, New York. When he graduated, he attended the Lincoln University in Pennsylvania, the institution where his maternal grandfather graduated. His paternal grandfather was an attorney who studied in London. Lee faced significant medical challenges during his first year at Lincoln so he transferred to New York University, Stern School of Business, to be closer to family. He graduated from that institution with a B.A. in Business Administration. After working at Marine Midland Bank, Ford Motor Company and holding a vice presidency at American Express, Card Division, Lee decided that the only boss he wanted to have was himself. So during times of relative health, he established himself as a successful entrepreneur in New York. He built, owned and operated a laundromat, a restaurant, several multi- family apartment buildings and store fronts in both downtown and central Brooklyn. Lee was always frugal so that there would be extra for any rainy days, which was a trait that he learned from his parents early in life. He was a member of the organization, The 100 Black Men, New York Chapter.

Lee was gregarious, outspoken and a leader. He was project oriented and conceptualized and pursued his dreams with fervor and passion until they materialized into reality. When Lee moved from Brooklyn, New York to Georgia in 1992, he purchased a home for his young family in Jonesboro and settled into the community. His goal was to bring Christian businesses together to do business with each other under the umbrella of the Christian Business Network. Entrepreneur that he was, he immediately sought to establish businesses as he had done in New York. He purchased a prime location on Tara Boulevard and constructed the Tara Center, a special event center which still stands in his honor today.

In the mid 1990's, Lee viewed the political landscape of Clayton County, Georgia and became a catalyst for change by becoming involved in financially supporting and campaigning for candidates, particularly of African American descent, to hold elected office. In a County which at that time was approximately 75% minority, Lee felt that the leadership should largely reflect the ethnic composition of the County. He was instrumental in having the first African American and first female to be elected to office in Clayton County in 1996. This strategy was repeated in 2004 when he assisted several African American candidates to win and hold significant positions as elected officials in Clayton County. He was fondly called "The Godfather" by many who appreciated the role he played in this regard.

Lee loved to travel, and he and his family visited several countries all over the world. He had a quest for knowledge and was constantly reading and viewing documentaries so that he was versed in any topic you wanted to discuss. When Lee met and married young attorney Jewel Hanson in 1985, he renewed his relationship with God and as a Christian, he lived his life in service to Him. Lee's devotion to his wife was unmatched and they recently celebrated thirty three (33) years of marriage. He raised his sons to take their place in a real world. He never sugar coated life for them nor cuddled them but they unmistakably knew that they were loved and protected by him. He was a member of The Brooklyn Tabernacle Church and when he moved to Georgia he became a member of World Changers Church International, College Park, Georgia, in 1995.

During the latter part of his life the complications caused by the Diabetes severely reduced his ability to continue to engage in community outreach and political activity. His struggle became that of surviving each day. However, he continued his philanthropic pursuits by making the Tara Events Center available as a community athletic center, with a particular emphasis on both after school programming and boxing training for at risk youth. The Center has also been utilized as an incubator for several churches and new small businesses in Clayton County.

His Celebration of Life Services will be held Saturday, October 13th at 1:00 pm at The World Changers Church International, College Park. His remains will be sent back to Jamaica for services and interment at Oaklawn Memorial Gardens, Mendeville, Jamaica.

Headley is survived by his loving wife, Jewel; sons, Headley L. Scott III and Christopher S. Scott; his grandchildren, Zachary Scott and Zykerria Scott; his sister Joette and her husband, Vernon Campbell; his niece, Karon Campbell Williams, MPA and her husband, Shawn N. Williams, and their daughter, Jasmine Scott Williams; inlaws, Flora and Reverend Dr. Peter Garth, Rosamund and Pastor Harry Walcott, David and Christine Hanson, M.Ds., Christian and Yasmin Hanson, Pamela and Hezekiah Coke, a host of loving extended family members and friends.

The family will receive guest on Friday evening October 12th from 6:00 to 8:00 pm at A. S. Turner & Sons Funeral Home, 2773 N. Decatur Rd; Decatur, GA, 30033 and on Saturday at the church from 11:30 am up to service time.
To send flowers or a remembrance gift to the family of Headley Leopold Scott, Jr., please visit our Tribute Store.
Previous Events
Visitation
A. S. Turner & Sons Funeral Home & Crematory
2773 North Decatur Road
Decatur, GA 30033
Service
World Changers Church International
2500 Burdett Road
College Park, GA 30349
Visitation from 11:30 am until 1:00 pm at church.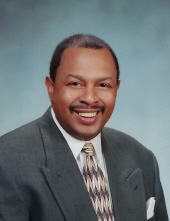 Thank you for sharing your
memory of Headley
Provide comfort by sending fresh
flowers from our local florist.
No thanks, please don't show me this again.